Administrator has disabled public posting
Re: July Challenge -
Don't know if I'll be able to finish in time, either.
Still need to take a few more Photos.

Here's a screen grab of the Post-Prod so far for the Opening Shot;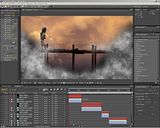 Larger Image
Administrator has disabled public posting
Re: July Challenge -
Marc_H wrote:

This month's challenge theme is... "A strange macabre terror."
For those not familiar with the term "macabre," I've gone ahead and pasted a brief definition from Webster's Dictionary below.

1 : having death as a subject : comprising or including a personalized representation of death

2 : dwelling on the gruesome

3 : tending to produce horror in a beholder

It's a pretty broad theme that will hopefully garner more entries for next month.
I discovered the challenge and immediately set about planning and modeling. I noticed after the fact that there seem to be some folks who are adding rules to the original challenge - seems like the rules should either be in the challenge itself, or at least posted before the challenge opens! Otherwise, one could wind up investing lots of time and find a new rule had been added.

Nonetheless, I did try to keep it tasteful, and nothing in my video is exaggerated beyond what might happen in real life... or real death! So here it is:
It Takes Guts:


Administrator has disabled public posting
Administrator has disabled public posting
Re: July Challenge -
@StopmoNick: Thanks for the kind comments.

I just looked at your profile and would love to have some conversations with you about the types of modeling you are working with, I haven't found much info on latex and other non-clay modelling, other than watching "The making of... The Fantastic Mr. Fox" which is what made me sit down and get much more serious about stop motion.

This challenge is my second serious Stop Motion project, the previous is a music video that includes a bunch of stop motion clips as well as lots of processed live video:

The Fantastic Musical Journey to the Plasticine World

I won't embed it here so as not to confuse anyone with the challenge videos.
Administrator has disabled public posting