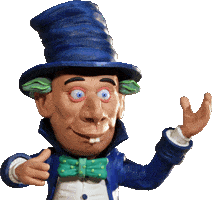 THE STOP MOTION ANIMATION HOW TO PAGE
1980's California Raisin Puppets and Restoration
The above video is of the remains of four original clay puppet California Raisins from the TV special called Meet the Raisins, or possibly Raisins Sold Out. We got them in the mail from Webster Colcord who used to work at Will Vinton Studios, and said that these clay puppets were all headed for the garbage. So he took them and had them in a box for many years. They were all in seriously bad shape. There are also armature parts from a few different Raisin characters.
​
After keeping them in a box for many many years, a Will Vinton animator and artist (who wishes to remain anonymous) contacted me to see if I'd like to sell the damaged puppets to him. He said he would restore the puppets and that they would go to a good home or stay with him. At first I refused, but then thought that it would be better to have them restored than to have them sit in a box where nobody could see them. After some messages back and forth, the puppets were to go to their new home for restoration.
​
After I shipped the puppets their way, they asked me if I'd like to help with the restoration. Towards the end of the video you can see how I created legs and molded some original Raisin hands. I also cast many sets of hands in plastic and sprayed them with primer. They will be painted white to match the white clay color and will be durable for display purposes.
You can see what the original puppets looked like above. The heights varied from puppet to puppet. Molds were made on original Gary "Gairy" Bialke sculptures out of cold cast casting rubber so many duplicates of the four characters could be reproduced. We added in different colors to show what the height might have been before the raisins were smashed.
​See how Marc created the hands and legs in the gallery above.
​
One thing we learned was that they used 1/2 inch hex cap head machine screws to secure the puppets to the set floors. They would first drill a hole in the wood floor, and screw the hex screw down to pull down on the feet. You can see on the top left why this would save a puppet from getting ruined using a phillips head wood screw and screw driver. The allen wrench on the top right is angled away from the puppet, and when you turn it you wont hit the sculpted areas.

Webster Colcord had this to say about the use of allen wrenches: "We did often use regular short wood screws for screwing the feet down, and we were always knocking the screwdriver into the characters, stupid, huh? Eventually we found a right-angle philips screwdriver, a goofy looking thing that didn't work very well, I've still got one and I could send you a pic of it sometime. Tony Merithew and some other folks started using the hex screw because of all the reasons mentioned."