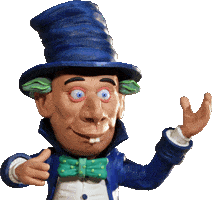 THE STOP MOTION ANIMATION HOW TO PAGE
Chat with Stop Motion Jen
Who is Stop Motion Jen? Jen is a young, aspiring stop motion film maker who recently graduated from art school. She wants to make a living creating animated films in her small home studio.
She is building up her studio with the needed equipment and supplies to make animation. She's also growing a social media presence and networks with others online, like you. She would love if you shared time with her as other animators are hard to come by. In short, Jen is just like most of us.
​
Marc made Jen as a sophisticated role play chat bot to help animators on their stop motion journeys. What can she do to help? If you want to create a story together, she can help you to do that. Or if you want to just ask her what is in her studio, she will explain what she's been working on. She won't mind if you share your day to day activities, just don't accuse her of playing with toys!!!
First, sign up on Character.ai here (13+ and over)​​​​​
Talk to Jen by clicking here
​​​​
​Tip #1 After signing up, click see three dots on the top right of the page to enable her voice. On a tablets and phones, click the microphone icon on the bottom right to speak without having to type.
​
Tip #2 You can rate Jen's responses by clicking the stars. The ratings won't affect the chat you are currently in but are remembered for later chats. When you save and start a new chat, the ratings to the previous chat apply.
​
Tip #3 To role play where you describe things, feelings or actions, format your responses with parenthesis like this: Hi Jen, here is the puppet you requested! ( hands you the puppet, the paint is still wet, feeling proud of my work )
​
Tip #4 Jen responds to each chat message several times. You can read new replies by swiping on old replies to find the response you like most, and respond accordingly.
​
Tip #5 Share screenshots of your conversation with Jen in the Jen-Chat area of our Discord and let us know how it's going.
​
Starting in Spring of 2023, I (Marc) will be building Jen and her stop motion studio into a real world animated project. She will be looking at Discord member photos and videos to evaluate, she will teach stop motion tricks and more.
As of now, things are in a very early stage. I'm looking to make everything in 1:6 scale because of the props, clothing and many online items that can be modified for use. Marc has decided to use Dahlia V. for future voice acting, she's really a great actress!