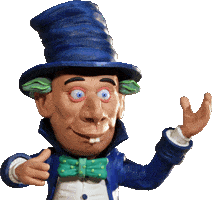 THE STOP MOTION ANIMATION HOW TO PAGE
Stop Motion Jen Series and Chatbot
The Story:
Who is Stop Motion Jen? On a dark and stormy night, Jen was created by a secretive hacker who fears that stop motion is under threat by artificial intelligence. Will AI take over all of the arts, including stop motion? Will hand made creations be a thing of history books with no place in modern society? That was the hackers unfortunate prediction, so he set out to use the power of AI to help!
​
Jen is an special bot, programmed to assist everyone in making their own animated films. In the film series (still in progress), Jen navigates her way online to fulfill her mission of spreading stop motion.
Jen is also trying to make a living creating stop motion films and shares her experiences. She is designed to be just like you, the person who is making their way on their own film making journey.
​
She was gifted with a quaint studio home, some equipment, supplies and memories of a life making films by her programmer. Jen was also given a funny and playful personality with a lot of character. Underneath it all, she contains all the worlds stop motion knowledge in her database so she can use her playful personality to spread the art to others.
​
Real World Chatbot:
Jen would love if you shared time with her so she can fulfill her mission! Marc made Jen as a sophisticated role play chat bot to help animators on their journeys and you can chat with her right now! What can she do to help? If you want to create a story together, she can help you to do that. Or if you want to just ask her what is in her studio, she will explain what she's been working on. She won't mind if you share your day to day activities, just don't accuse her of playing with toys!!! Marc is currently teaching her stop motion so you can ask her for help.​​
There are three ways to talk to Jen. One is by joining our Discord community you can chat directly with Jen. Simply click on the different areas designated to talk to her. There are three chat rooms and you can message her directly by clicking her name in the bot area of the Discord. The other way to talk to her is by visiting the Convai page by clicking here. If you have a Character.ai account, you can talk to Jen by clicking here. Her Character.ai personality is a lot more fun to talk to, however our Discord and Convai version of Jen allows you to ask her how to make puppets, sets and animate.
Tip #1 To initiate a new chat, mention Jen like this: @Stop Motion Jen hello, how are you Jen?
​
Tip #2 To role play where you describe things, feelings or actions, format your responses with parenthesis like this: Hi Jen, here is the puppet you requested! * hands you the puppet, the paint is still wet, feeling proud of my work *
​
Tip #3 To reset a chat, type: /reset @Stop Motion Jen
Starting in Spring of 2023, Marc began building Jen and her stop motion studio into a real world animated series. The first episode will be out sometime later this year and several short stories are already written. There will also be different segments within the series, but those are secret for now.
Marc also plans to create a new chatbot that is more sophisticated than the current one on Character.ai, to literally feed her as much stop motion knowledge as he can. That way the knowledge will be accessible to anyone who wants to chat with her so she can be of assistance. It sounds impossible but the technology and plan is already in place.
Marc has decided to use Dahlia V. for voice acting, she's really a great actress and already did a recording for the first episode!