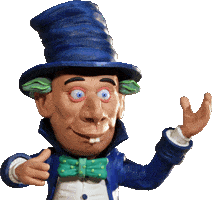 THE STOP MOTION ANIMATION HOW TO PAGE
Pablo Llorens Serrano: I make stopmotion all the time, sometimes like a pro sometimes like a fan. Here you can watch a mix of that. Sometimes I'm focused on Lego movies, the bizarre, crazy and adult ones like PSYCHO TROOPER!
​
Özgürcan Özdamar: Whacky and viral short funny clay animations.​
Gumby World: Videos, Links, Credits, Shopping and more about the popular green guy Gumby!
​
Jurgen Kling (Germany): Juergen Kling's personal clay animation home page with lots of pictures of his puppets. He has made a few short films and has excellent pictures of his armature.
​
Plastivida: Cecilia Toro illustrator - Illustrations in plasticine / plasticine and animation Stop Motion Chile
​
Mark Osborne's More: The Academy-Award® nominated animated short-film tells the story of a lonely inventor, whose colorless existence is brightened only by dreams of the carefree bliss of his youth.
​
Aberle Films: The very old site of past Will Vinton Studios animator. Best known for internationally award-winning animated short films (from a spirited computer-animated dog to stop-motion characters built out of pipe cleaners), Aberle Films is also a strong creative source for commercials, television and feature films. Come in and explore!
Bright Eye Pictures: Creators of the Monster Road documentary, a must see: "Monster Road explores the dazzling and fantastic worlds of legendary underground clay animator Bruce Bickford. Tracing the origins of Bickford's wildly unique sensibility, the film journeys back to his childhood in a competitive household during the paranoia of the Cold War and examines his relationship with his father, George, a retired aerospace engineer who is facing the onset of Alzheimer's Disease. Along with a glimpse into the world of a true visionary, the film reveals a story that, like childhood itself, is at once scary and funny, sad and baffling."
The Clayman and Associates: Paul Moldovanos is a multi-disciplined creative professional living on Canada's beautiful west coast. His diversified styles include cartoon and whimsy, fine art, graphic design, illustration, photography, sculpture and animation production.
The Vampire from Beyond the Crypt: Chris Boyer's blog where he talks about the up's and down's of making a film in clay animation. He is also the creator of Trinket.
Wallace and Gromit: The official site for the famous clay duo by Nick Park at Aardman Animation Studios.
Will Vinton: What would clay animation be without Will Vinton? Creator of the California Raisins, Dominoes Noid, PJ's, Herb and Rex, Wiltshire Pig and more. Sadly Will passed away, only his Facebook page remains.
Daniel James Animations: This is the old blog Daniel made, but it has a lot of very helpful information. Hello there, I'm a freelance Stop Motion Animator and Puppet maker I have been animating now for 10 years and in that time I have manage to build up my skills, had some amazing experiences and have won a number of awards. I have now graduated from Staffordshire university with a 1st class degree in Stop motion animation. Feel free to have a look around my work, any comments and feedback you may have are very welcome.