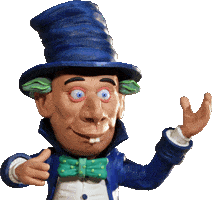 THE STOP MOTION ANIMATION HOW TO PAGE
Phil Tippett is a stop motion animator and artist known for his work in the film industry. Even if you never heard of him before, you have almost certainly seen his work on the big screen. Phil follows in the footsteps of other pioneers, such as Jim Danforth, Ray Harryhausen and Willis O'Brien.
He was born in Berkeley, California and developed a passion for special effects after seeing Ray Harryhausen's The 7th Voyage of Sinbad at the age of seven. Tippett later studied art at the University of California, Irvine and began working at Cascade Pictures in Los Angeles.

In 1975, Tippett and Jon Berg were hired by George Lucas and Industrial Light & Magic (ILM) to create a stop-motion miniature chess scene for the original Star Wars film. Tippett went on to head the ILM animation department with Berg for The Empire Strikes Back, released in 1980. For this film, Tippett developed the go motion technique to animate the AT-AT Imperial Walkers and tauntauns. He received his first Academy Award nomination for the dragon animation in the film Dragonslayer, released in 1981. Tippett continued to lead the Lucasfilm creature shop for Return of the Jedi, for which he received an Oscar in 1984.

In 1984, Tippett started his own studio, Tippett Studio, and created the experimental film Prehistoric Beast. The realistic depiction of dinosaurs in the film led to the creation of the CBS animated documentary Dinosaur! in 1985. Tippett Studio received its first award, a Primetime Emmy, for the animated dinosaur sequences in Dinosaur! in 1986. Tippett also worked on the animated robot sequences for the film RoboCop and the Dark Overlord creatures in Howard the Duck.

Tippett was hired to create the dinosaur effects for Jurassic Park using his go motion technique. However, the dinosaurs were ultimately created using CGI by Dennis Muren and his team at ILM. Tippett was kept on to supervise the animation of 50 dinosaur shots, earning him a second Oscar. Tippett Studio's Craig Hayes also developed the DID (Digital Input Device) as a result of the work done on Jurassic Park, which aided in the transition from stop motion to computer generated animation.
​
Tippett's most recent work was to create Mad God. According to his site:
​
"Mad God is an experimental stop-motion film set in a Miltonesque world of monsters, mad scientists, and war pigs. Conceived and directed by our founder, legendary visual effects and stop-motion craftsman Phil Tippett, all sets, creatures and environments in Mad God are handcrafted and shot at the Berkeley studio stage.

Mad God is a mature film made with technology that spans the history of cinema.

Take a look at the Mad God website at www.madgodmovie.com
​
You can find the official Phil Tippett website by clicking here.