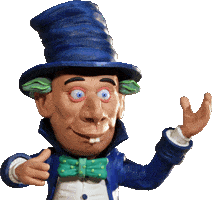 THE STOP MOTION ANIMATION HOW TO PAGE
Challenges Buying Supplies in Latin America
Dan Gorosito (A.k.a Metalmadcat)

Sculpey, Chavant, Van Aken, Klean Clay, Monster Clay. If you have been into stop motion for some time you probably heard all these brands. Maybe you started animating simple blocks or Legos, but now you want to go from amateur to advance and you have these products in mind. Because these brands are known for best results in animation. They are top quality products which allow animators to go one step further when it comes to animate. Now, if you happen to live in Latin America, these names are as good as hard to have access to and many of us (including the reader of this article who resides in Buenos Aires) think twice before we make a choice that could turn into a nightmare.

THE ODYSSEY

Buying online in Latin America implies lots of work beforehand. Living in any country where American dollar value is worth 30 to 40 times the value of its national currency can indeed be discouraging. Not that there are no ways to make it possible but the limitations are there and believe me, sometimes is too risky to get involved. Regardless some are brave enough to give it a shot. Problem comes when you find out you spend more in shipping cost than paying for the actual unit product listing price. Which, on the other hand, forces you to buy more, but then your budget may not allow you to buy in big quantities as you may want in the first place. As a consequence online purchases turns unreasonable for a limited budget and top quality products seem like an unreachable goal to make. An odyssey some prefer to avoid.

SEEN FROM A GLASS BEFORE IT GETS TO YOUR HANDS

Discouraged already?...hold on, that´s not it. On top of it there are tax regulations, and forms to fill in before you finally receive your product. As soon as product arrive, (time depends on your shipping methods) you are notified through a telegram. Then you are expected to pay additional charges, that is fifty percent of each product franchise they bought. The transaction must be in person, and if you are lucky you live close to declare goods on the customs office. To be clear: not all countries from Latin America have same policies and regulations. Truth is, however, they all share same fate. Top quality brand products as polymer clay and chemical brands are mostly based elsewhere. They simply have little demand, hence less offer to trade. There is no one to blame but the simple fact of a region where these products are not as demanding. In Argentina, for example, our region is mainly concerned about raw material products such as fruits, meat, and minerals. Then tourism, then everything else. Of course I always refer to Argentina, from which terms and conditions I know best for living here.

As far as the circuit goes: If you can afford it and you are willing to buy regardless and go through the Odyssey, here is a list of considerations before you buy -also to avoid more than one trip:

-You are limited to buy up to 3 units of the same kind.
-You can buy up USD $1000 in products.
-Your package cannot exceed 50kg
-You definitely cannot buy at a commercial cost.
-You are allowed to receive products only 5 times during all year calendar.

ALTERNATIVES

Limitations create opportunities. In the last two decades the ever increasing rise of buying products online changed dramatically the way we buy. But due to high inflation and dollar currency the online market is yet very primitive in contrast to the vast and diverse Amazon company worldwide. This gave great chance for small business and startup groups. Among them, travelers found it convenient introducing a platform known as Grabr, a trusted peer-to-peer community marketplace which connects shoppers and travelers gaining access to products they wanted and couldn't get otherwise. Help from travelers can definitely be an advantage but in most cases the items they bring are electronics and not craft products. Helpful nonetheless and important to consider. On the other hand, small business would buy imported products and provide them online to local shoppers. That means they would do the job of declaring goods for you, do all the paperwork and waiting in line so you don´t have to. While this sounds like an ideal scenario, it has its gray side of it. Seller can decide whichever price they want on the item. Just like every business, the more shares between parts, the more expensive the product will be. In the end, you could end up buying a product twice more expensive than the actual price in dollars. Unless you buy massive or you live close to that store, this may or may not affect you much. Many online business are mostly concentrated in Buenos Aires, making it hard for those living in other provinces. That means, in addition to international shipping cost, the new price given by local seller, you also are paying shipping cost from Buenos Aires.

CHEAP REALISTIC SOLUTION - THE B PLAN BUYING LOCAL

At some cases you find yourself with a very narrow budget and you want to make the best out of it and not spend it all in few overly charged products. What can you do? Well, at this point I strongly encourage you to buy local. Yes, buy local and don't feel you lost your battle. Go easy on your budget first, you are still capable of making the coolest animation before jump into a rather more ambitious one. Adapt to whichever product there may be available. Sometimes is hard to face the facts but obstacles can also unlock doors without a master key.​​​​​​
As far as my local experience, Tecnarte is the biggest supplier I have heard of. They are both fabricators and providers. They have been around for about two decades and they are located in the northern area of Buenos Aires. Initially, NOVARCHERM S.A. (taken from their website) began as a construction company aimed at an industrial level. But as years went by they included craft and artistic solutions too, from which division Tecnarte is the one. Their website is quite informative answering all kinds of questions. From technical description of each product, to specifications, preparation, how to use it, ways to apply and step-by-step videos, and healthy recommendations. All nicely done in PDF file to download.
Apart from selling, they also offer workshops and seminars for the community to get involved and explore their products. Unfortunately most branch offices are located in the north or in the capital of Buenos Aires. If you are like me and you don´t live anywhere near, still is worth the commute to get there. If you can´t drive there one solution I found was attending to sculpting workshops. Here is one tip to help your budget and time immensely. Whenever the teacher needs supplies to equipped the studio, he would ask everyone so that he makes one whole purchase only, and he can get the best offer. The purchase is delivered to the studio, so you can get it from there saving shipping cost and possible discounts. Such is the case with Art Machine Studios which not only offer this advantage to its students but also allow you to participate at an annual showcase from the class, and annual reunion with students and teacher.
Here are some cool products I found in Argentina that I consider acceptable

Clay for animation – Jovi Brand
Extremely sticky, use gloves and lots of powder. White background may not be ideal to go for.
Plasticera - Brand Novasculpt
- Wax-based and incredibly functional, smooth but hard to find. Limited stock from certain sellers who also have limited schedule.
YesoArtistico Paris - Brand Pescio
- Most accurate plaster results I used so far.
Epoxy putty - Brand Parsec
- Cheapest and accessible anywhere.
Epoxy putty - Brand Masillite
- Not anywhere but less sticky and easier to work with than Parsec.

Best products for molds and casting I have seen:

Silicone Latex – Brand Mundopox
Brand Dicasil 7020
Brand Ecocryl
Resin Polyurethane - Poly 15-3X

All in all Top brand products are always tempting to have but having them or not will not determine the QUALITY of artist you can become. Continue on your journey at all times regardless. Don´t let external obstacles decide for you and keep on creating. Obstacles will always be there nonetheless. Just don`t get frustrated looking for that popular brand. At any time given you may find yourself getting these products you long for. In the meantime, do what you can with your energy to keep you productive. And most important, let your ideas remain as top quality.

Last revision March 3rd, 2019